Occupational Therapy/Hand Therapy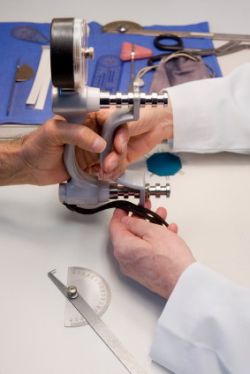 As defined by the Hand Therapy Certification Committee (HTCC), "Hand Therapy is the art and science of rehabilitation of the upper limb, which includes the hand, wrist, elbow and shoulder girdle. It is a merging of occupational therapy and physical therapy theory and practice that combines comprehensive knowledge of the structure of the upper limb with function and activity. Using specialized skills in assessment, planning and treatment, hand therapists provide therapeutic interventions to prevent dysfunction, restore function and/or reverse the progression of pathology of the upper limb in order to enhance an individual's ability to execute tasks and to participate fully in life situations."
A Certified Hand Therapist (CHT) is an Occupational Therapist or Physical Therapist who has a minimum of five years of clinical experience, including 4,000 hours or more in direct practice in hand therapy. In addition, the CHT has successfully passed a comprehensive test of advanced clinical skills and theory in upper quarter rehabilitation. Because of changes in the profession, every CHT is required to demonstrate continued professional development and competency by recertifying every five years.
The hand is one of the most important and complex instruments of our body. For that reason alone, one should seek the very best of treatment to assure maximal recovery. The CHT credential offers assurance to the public that the therapist has achieved the highest level of competency in the profession and stays up to date with practice within the field.
ED&A, LLC has a dedicated Hand Clinic with a Certified Hand Therapist available to provide the highest quality of care for rehabilitation of the Upper Quarter.
Services include the following:
Manual Therapy
Modalities

Ultrasound
Electrical Stimulation
Cryotherapy
Moist Heat
Fluidotherapy
Iontophoresis

Splinting / Bracing
Custom-Made Splints and Orthotics
Biofeedback
Therapeutic Exercises
Sport-Specific Skills
Work-Specific Skills
Home Exercise Program Designed Specific for Individual's Needs